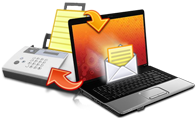 Send and Receive Faxes via Email or Internet
We provide complete Fax-to-Email Services - you can now send
and receive faxes securely without having to worry about
the cost of purchasing hardware or equipment.
Operate your faxes just like your e-mail.
Click here for more Information
No contract binding, you can cancel the service at any time
Internet Fax Service - Test it out!
Enter your Email address below and we will
send you a sample Fax by Email.